African Home Adventure Safaris is among the leading inbound premier Kenya and Tanzania Tour Operator, dedicated to provide comprehensive Kenya and Tanzania travel services tailored to the specific needs of luxury and budget adventure clients. With daily group tour departures, and travel expeditions, the company has a proven record of outstanding service, both at point-of- sale and in "after sales" care. Reviews on TripAdvisor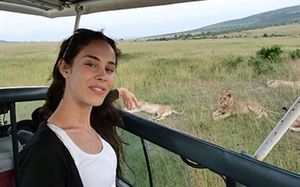 Outstanding record in Tourism Industry !
One of the many extra services that singles African Home Adventure Safaris Kenya and Tanzania out from the crowd in tourism in Kenya and Tanzania is our "meet and greet service". All our clients arriving at International airports in Nairobi or Arusha are met after clearing customs by one of our staff and guided to their vehicles. At their hotel they are welcomed by one of our Guest Relations Officer who couple as a tour guide. He will assist with check-in before thoroughly briefing all clients. The guides are on hand each time clients check in or out and are available to provide, reassurance or advice in all matters from ticket reconfirmation through baggage assistance to restaurant bookings. Debriefing is provided on departure date before assistance at hotel checkout and airport check-in.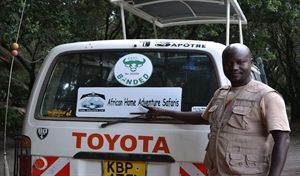 GEORGE OTIENO-LEAD GUIDE-RATED GOLD.
Reason to a Great Safari Experience-Tour Driver Guides!
All African Home Adventure Tours and Safaris Professional driver guides are employed and trained by us. Unlike other tour operators, this allows total control of one of the most important element in your safari business. Training is in subject, ranging from tribal culture to conservation and yearly refresher courses, constant assessment and grading guarantees the highest standards. As sole employer we know our driver guides and can match their talents to your needs. Among them we have the largest cadre of genuine multi-lingual guides in East Africa with specialization in many languages that you can requet for. Fearless in choosing African Home Adventure Safaris.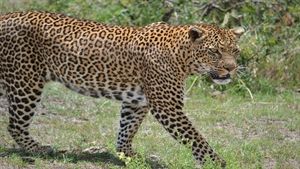 Kenya and Tanzania road transport safari vehicles
African Home Adventure Safaris Kenya and Tanzania operates it's own transport in a 4 x 4 Toyota Landcruser (especially on Tanzania Safaris). The majority of the safaris are however based on our customized seven-seater safari vehicle with specially modified suspension, full-length photographic roof hatches and seats designed with seat belt. These vehicles are the ideal safari workhorses designed to have nine seats, our vehicles seats are seven only (except on special request) as all clients are guaranteed window seats.