Safari 4 x 4 Landcruiser Jeep Hire in Kenya.
African Home Adventure Safaris provides the new converted safari 4 x 4 Toyota Landcruiser Jeeps for hire at an affordable rates. Our Jeeps are driven by experience driver guide. our Jeeps are licensed to carry maximum seven (7) people and be driven by a licensed tour driver guide with badge from the Tourism regulatory Authority and with enough experience of safari destinations, wildlife and terrains. You can book your accommodation and we handle the rest for you and you won't regret working with us.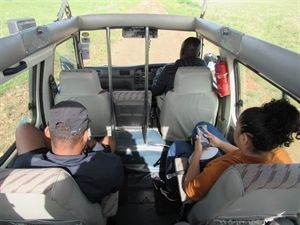 Reason to choose 4 x 4 Safari Landcruiser Jeep in Kenya
-The 4 x 4 Toyota Landcruiser Jeep is a all-wheel drive and higher platform on toughest terrain, up hills, crossing streams and over rough bush.
-The higher seating in a Jeep creates better visibility to view and photograph wildlife in the parks.
-Jeeps drives where other vehicles don't drive – drives deeper into the bush and easily drive off-road.
-The Jeep's special suspension offers a more comfortable ride on rough road.
-The Jeep is built for the demands of a safari adventure – more doors for easy access, 2 fuel tanks and two spare tires.
-More spacious and stable than a minivan in a rough road.
-The Jeep's pop up roof ensures good view.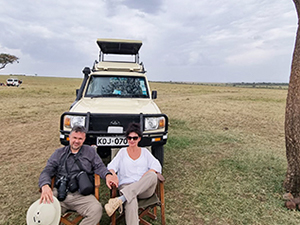 Safari 4 x 4 Landcruiser Jeep specifications
- Special modified pop up roof
- Sockets for Charging
- Seven (7) tourist fabric seats with seat belts
- Two (2) spare wheels on the tyre bracket
- Bull bar
- Clear sliding window glass
- Five (5) doors